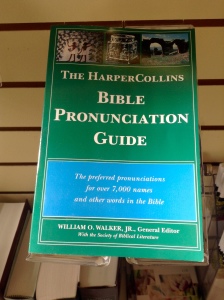 The Harper Collins Bible Pronunciation Guide, is an essential tool for any Bible student.  Biblical experts from the Society of Biblical Literature offer a concise pronunciation guide that can be used with all major translations of the Bible.  Students, teachers, preachers, public speakers and lay readers will find pronunciations for
– All proper names and many other difficult-to-pronounce words found in English Bible translations.
– Nonbiblical terms  that are important in the study of the Bible.
You can buy this book from our Bookstore for only $14.95 (Cdn), and there is no sales tax!